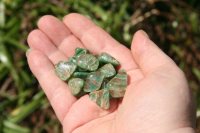 A central aspect to working with the Energy Symbols is to make one's own symbol set, out of materials that one feels drawn to, and to inscribe the symbols oneself according to the instructions.
This makes any Energy Symbol set unique to the owner, and of course, the owner can make as many different sets at any time they want, as the symbols are free from any object, but can be applied to any object.
Check out this cool gallery of Energy Symbol Sets from around the world!