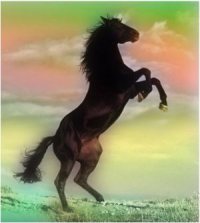 When I was very young, I often used to see a black horse that no-one else could see.
I soon learned to stop talking about it, because that didn't do any good at all, but I still saw it; running alongside when I was being driven in a car, or out of the windows of a train, or a bus. I think it was the day I saw the horse and I was on a North Sea ferry and the horse was running with the waves that I realised that it was a spirit horse. 
---
Project Sanctuary welcomes our new section on Animal Spirits, Animal Guides and Animals In Sanctuary.